Dr. Alyson L. Beausoleil-Holt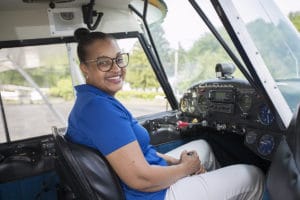 After graduating in 1986 from the Prospect Heights High School in Brooklyn NY, Dr. Alyson L. Beausoleil-Holt went on to earn her Bachelor of Arts degree in Interior Design from the City College of New York in 1990, a Masters degree in Aeronautical Science with a dual concentration in Aerospace Safety Systems/Aerospace Operations Specialization from Embry-Riddle Aeronautical University in 1995, and a Doctorate degree in Educational Leadership from Rowan University 2005. 
In 1997 she enlisted in the New Jersey Army National Guard as an E4, Flight Operations Specialist. In 2003 she was commissioned as a Second Lieutenant Branch Quartermaster from the New Jersey State Officers Candidate School.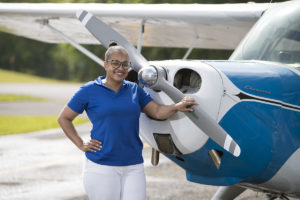 Alyson also served as Company A, 250th Forward Support Company platoon leader, company executive officer, and acting company commander. She was then promoted to First Lieutenant and transferred to Company E, 1-150th Attack Helicopter Battalion where she served as the company commander.
Alyson takes great pleasure for having served the soldiers of the New Jersey Army National Guard in the position of Federal Tuition Assistance Manager for three years prior to resigning to work as a Teacher of Aviation Technology with the Newark Public Schools District since 2008.
She retained her National Guard status and in 2008, was promoted to the rank of Captain and then transferred to the 119th Combat Sustainment Support Battalion where she serves as the Plans Officer, Material Management Officer, and Adjutant General. In 2011 she was assigned to the 254th Regiment where she served as a Platoon Training Officer before being promoted to the rank of Major and assigned as the Regional Training Site Maintenance commander in 2014.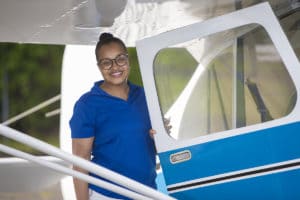 Alyson is also a graduate of the US Army Reserve Component Multi- functional Combat Service Support Course, Combined Arms Exercise and Quartermaster Officer Advance Course, a graduate of United States Army Command and General Staff Officers Course, and has completed the Advance Operations Course as well as the US Army and Air Force Inspector General Training courses. She is presently assigned to the New Jersey National Guard Inspector General's Office as a Detailed Inspector General.
In 2006 Alyson founded The Women in Aviation, Garden State Angels Chapter where she remains president. Other organizations include Whirly Girls International, American Association of Airport Executives, and Black Pilots of America.
In 2007, she launched an Aviation Diversity Initiative Group with the youth of St. James AME Church in Atlantic City, New Jersey for which she continues to provide aviation mentoring.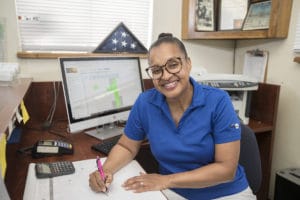 In 2009 Alyson purchased her beloved Aeronca Champ and currently holds pilot certificates for Single Engine Land, Certified Flight Instructor, Multi-Engine, Instrument, and commercial pilot helicopter ratings. In 2011, Alyson and husband Joe Holt (Lieutenant Colonel-retired, FAA Designated Pilot Examiner-retired) established the Old Bridge Flight School, at Old Bridge Airport (3N6). They presently live in Jackson, NJ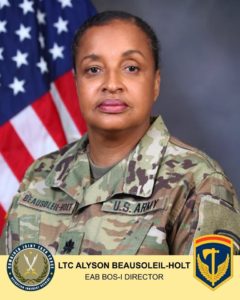 Alyson currently holds the rank of Lieutenant Colonel in the Army National Guard and is presently deployed to Iraq until April of 2021 while serving as EAB BOS-I Director. Thank you for your outstanding service Alyson. We pray for your safety and safe return.